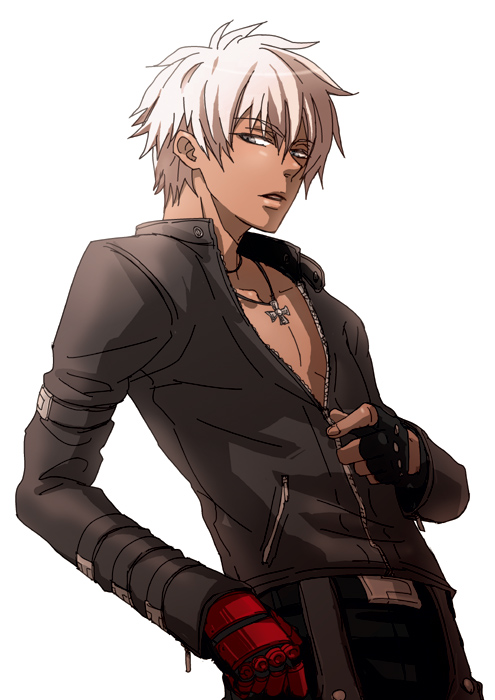 BASICS
Name: Sky Xavier Kuso
Nicknames: Skyman, X,
Gender: Male
Sexual Orientation: straight
Age: 20
Race: Hybrid [Human and Mage]
APPEARANCE
Eye Color: Grey
Hair Color: White
Height: 6'0
Weight: 189 lbs
Markings: None
Apparel: Street Style Attire, jeans, jacket, mainly colored black with a cross necklace
ADDITIONAL INFO
Personality: He is an extremely powerful pyrokinectic. The benefit of his training every single day, has allowed him to become more durable, faster, and stronger beyond that of every human. He has indeed earned the title of "Rouge Sorcerer". He's a cold person to everyone he knows, ruthless in battle and a bad@$$ attitude to boot. He doesn't care for anyone or anything. he tensd to remain his cool cold stature no matter what situation, if he opens up to talk he'll be friendly...kind of...and thats a pretty BIG if.
Habits: Bad Temper, Speaking his mind, Burning people alive that piss him off
Likes: Training, Fire, Girls
Dislikes: Loud people, Pointless Bragging, Overconfidence
Special Ability: Pyro Kinetics [Fire Control]
Weapon: None
HISTORY
Parents/Guardians: Nami Kuso- Dead, Riku Kuso- Dead
Siblings: None
Hometown: Tora
Birthday: 11/14/91
History: He was born and raised in a home with a rich family in a distant city. He was smart one compared to his siblings at the time so he was an easy target to get bullied, till then he was killed by a explosion which sent him to another dimension into the academy, he was given a chance to go back but in return he must master his combat skills with vigoruos training, until one day he was in a unknown dark realm which cause a unbalance chain reaction cause of his massive energy into a flaming aura that surges through him, he was thrown back to earth, but he felt weird feeling a dark surge flowing through him....he devoted himself to destroy himself after he cleanse the earth of all evil and those who oppose him.